December 11, 2014
County monuments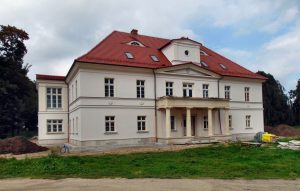 Palace complex in Żelazowie
From the 17th century. rebuilt in 1830. Park with a rich stand.
Currently in private hands.

Palace Moravia
Of the 18th century. surrounded by the historic beautiful park. Currently, the stud farm and nursery Foundation of St. Jadwiga Place also known for its excellent food.
---
The Church of St. Peter and Paul in Russian
Built CA. 1239. in the Romanesque style, rebuilt in the 16th and the 18th century. The main altar is a polychrome wood, Baroque, beg. Of the 18th century. The pulpit, wood, gilded, Baroque, the end of the 18th century.
---
The Church of St. Simon and Thaddeus in rogoznica
The first mention in the r. 1291. The current building dating from about 1500 onwards. The high altar-the 17th century, the pulpit, Baroque, 18th century. Epitaphs and gravestones of sandstone from the years 1558-1677.
---
The Church of St. The Trinity
Built in the early 14th century from historic pulpit altar and reliefs
---
The ruins of the Palace in Olšany
The remnants of the ruins of the Palace which was built originally as the Foundation of the Renaissance in the 17th century, that is a thorough reconstruction in the early 18th century. Damaged in 1945, then devastated and almost completely demolished, now preserved fragment of the front wall of the portal are equipped. Survivor while the 18th-century buildings: 4 Annex, granary and impressive gateway. Around the remains of the moat and the historic park of 10 ha.